Pure RV Surface Protection
P2 GRAPHENE pure
RV + Marine Coatings
P2 GRAPHENE PURE is a revolutionary surface protection coating that bonds in a single layer to any hard surface. Our GRAPHENE Protection Plans can easily protect all RV and Marine surfaces.
Why Protect Your RV with P2 Graphene Pure?
Next Generation
Surface Protection
This incredible coating provides PURE Surface Protection to all types of RVs and Marine applications and their exterior surfaces. P2 GRAPHENE PURE can protect your RVs and Boats against most minor scratches, swirl marks, bird droppings, bug splatter, tree sap, and UV Rays. 
Another great feature with GRAPHENE coatings is that they create a significant reduction in water spotting by dissipating heat across exterior surfaces. P2 GRAPHENE PURE coated RVs and Marine surfaces have a lower sliding angle than similar surfaces with other coatings for unmatched self-cleaning capabilities. To top it all off, the coated RV or Marine application will have an incredible amount of colour depth and a high gloss finish.
When it comes to RV and Marine applications, owners are also generally concerned about preserving the interior as well. Thankfully, our Interior Shield coating provides the same level of surface protection to interior upholstered surfaces. The interior of the RV or boat will be protected from coffee spills, inks, dyes, pet stains and other common accidents that may occur after being coated. Surfaces will also benefit from anti-microbial properties and will be protected from ageing, cracking, and fading. 
The benefits of applying P2 GRAPHENE PURE to your RV or Marine application are nearly endless. We recommend booking a demo with our vehicle protection division so that you can see the great protection we can offer for yourself. If you have customers that are looking for a way to increase the longevity of the exterior and interior of their RV or Boat, they need to see the GRAPHENE Protection Plans that we have available.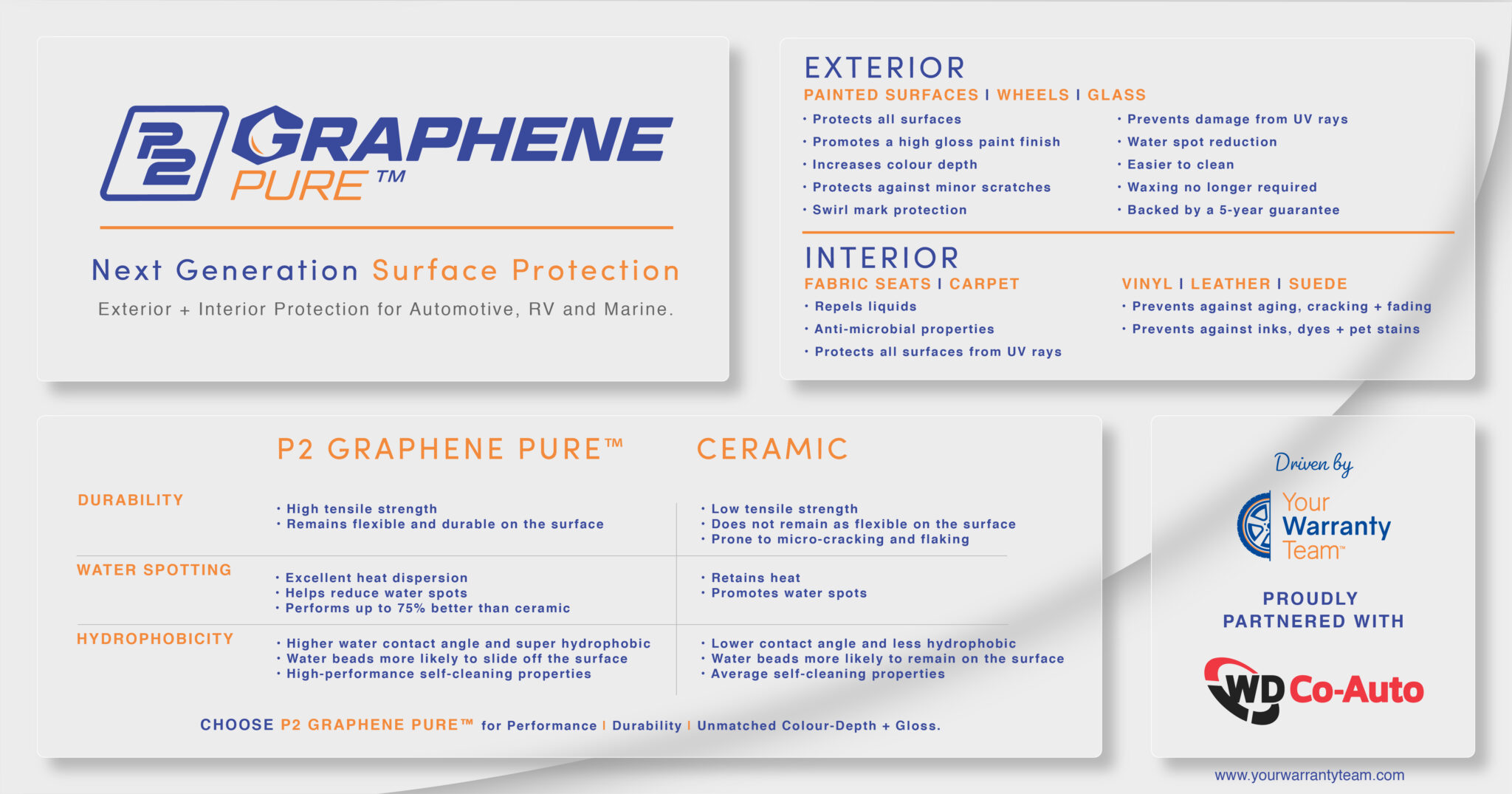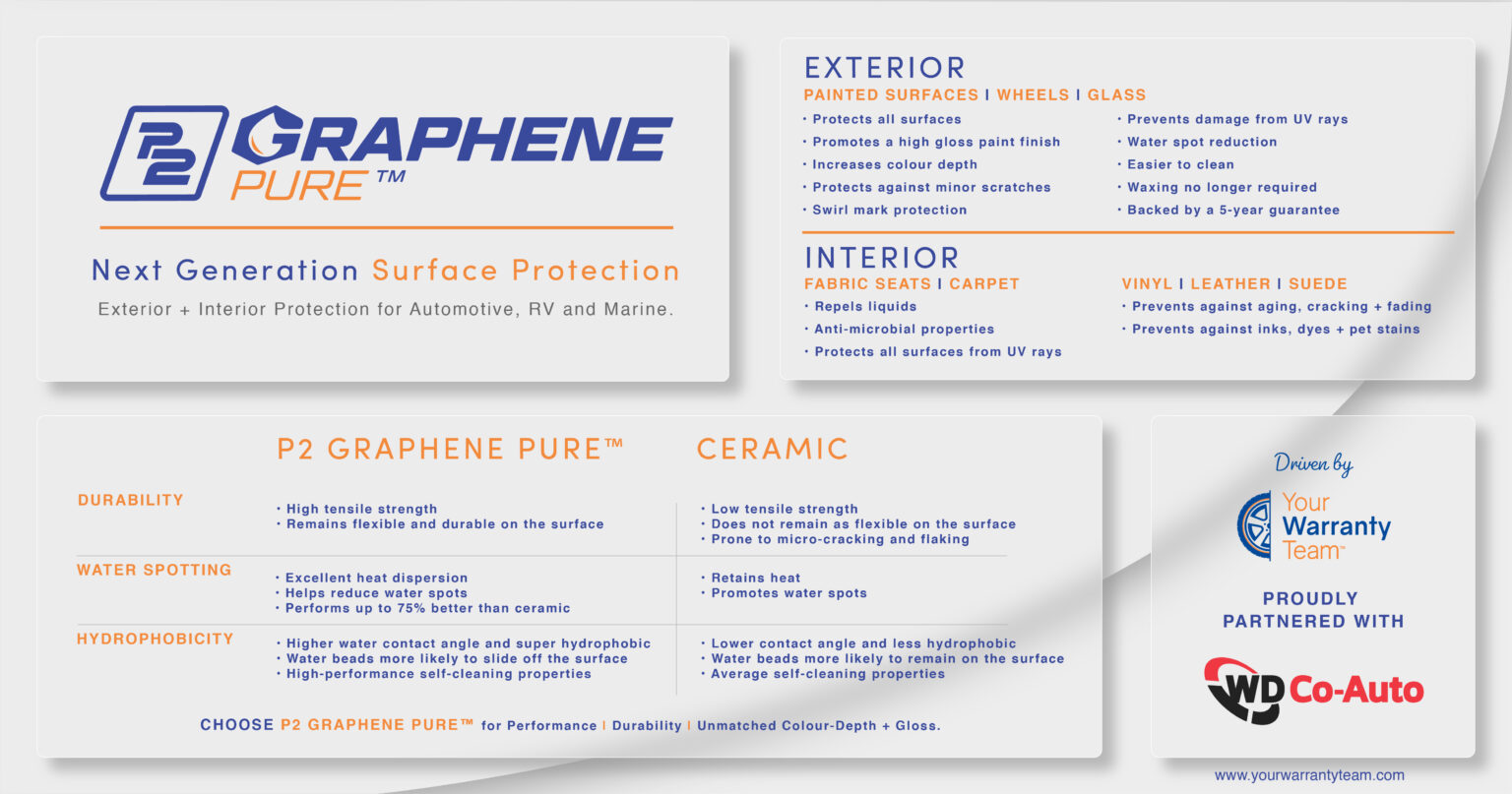 AUTOMOTIVE
Our P2 GRAPHENE PURE surface protection coatings are designed to protect and enhance your car, truck and automotive paint.
RECREATIONAL VEHICLES
Keep those motorized RV's and trailers looking like new with P2 GRAPHENE PURE surface protection for all exterior and interior surfaces.
MARINE
P2 GRAPHENE PURE surface protection works great at keeping your boat, seadoo and other watercraft looking like they are
brand new.
P2 GRAPHENE PURe
EXTERIOR

COATINGS
P2 GRAPHENE PURE Surface Protection Coatings are guaranteed to protect the exterior substrates of an RV or Marine application for up to five years. 
Take a load off your customer's mind. Bird droppings, tree sap, acid rain, UV Rays, and other environmental contaminants will be worries of the past thanks to this incredible GRAPHENE RV and Marine coating. Any painted, glass, plastic, metal, alloy, or exterior surface including decals, on the customer's RV or boat can be protected from the elements. 
Every exterior part of your Customer's RV or boat will be protected and easy to clean, keeping it in the best possible condition for years to come.
Promotes a high gloss paint
protects against minor scratches & swirl marks
prevents damage from uv rays
increases color depth
protects painted surfaces, wheels and glass
water spot reduction and easier to clean
The protection doesn't stop with the exterior of the customer's RV or boat; we offer protection for the inside surfaces as well. INTERIOR SHIELD is available with our exclusive GRAPHENE Protection Plans to ensure your customer's boat or RV is protected inside and out.
leather + suede + alcantara + vinyl
Interior Shield helps your fabrics repel liquids. It also includes Anti-Microbial Properties and UV Protection.
fabric seats + carpets
Prevents against Ageing, Cracking + Fading of interior surfaces and protects against Inks, Dyes + Pet Stains.
Many of the same great properties as P2 GRAPHENE PURE are also found in this fantastic interior coating.  INTERIOR SHIELD can be applied to all interior surfaces and has a number of benefits for even fabric seats and carpets. The hydrophobic properties repel liquids to help prevent stains from coffee spills and boast anti-microbial properties to keep them bacteria free. The fabrics will also be protected from fading and deterioration caused by UV Rays.  
If the customer has leather, suede, alcantara, or vinyl on the inside of their RV or boat, it can also be protected by INTERIOR SHIELD! This world-class interior protection coating has proven to prevent ageing, cracking, and fading as well as protection for these materials from inks, dyes, and pet stains. As an added bonus, INTERIOR SHIELD effectively seals hard surfaces such as the dashboard. This prevents the expulsion of chemicals that build up over time to form that grimy layer on the inside of the windshield. 
Your customers won't have to worry about spills, pets, or other types of damage that can occur to an RV or Marine interior for five years with this incredible interior coating. If you want to give your customers more peace of mind and protection when purchasing a boat or RV, make sure you tell them about our INTERIOR SHIELD and GRAPHENE Protection Plans!
Protection you can count on
P2 Graphene Pure comes with a 5 YEAR PROTECTION GUARANTEE
CAN BE APPLIED TO ANY
EXTERIOR PAINT, FIBREGLASS, DeCALS, GEL COAT, WHEELS, GLASS, MIRRORS, PLASTICS, OR RV MOULDINGS.
HOW DOES
P2 GRAPHENE PURE

Do AGAINST THE COMPETITION FOR RV + Marine?
We have created a helpful chart to show you how P2 GRAPHENE PURE stacks up against other leading paint protection products. We're sure you'll find it easy to see how PURE Surface Protection is, hands down the best surface protection product you can offer to your customers.
Benefits

P2 GRAPHENE Pure

Ceramic Coatings

Paint Sealant

Protects Exterior Painted Surfaces

High Gloss Finish & Increased Colour Depth

Prevents Damage From UV Rays

Prevents Fine Scratches, Swirls, Marks & Abrasions

Hydrophobic Properties (Interior & Exterior)

Winter Road Salt Anti-Corrosion

Chemical & Environmental Resistance

Waxing No Longer Required After Application

Annual Servicing / Touch-Ups Required

Only 1 Coat Required On All Surfaces

Does Not Require Multiple Layers of Products

Deliver Time / turnaround Time

Service Follow Up Program

5 Year Rated Surface Bond

Aftercare Products Available
GET THE
FAQs

on P2 GRAPHENE PURE
How long does it take P2 GRAPHENE PURE to cure on a boat or RV?
P2 GRAPHENE PURE requires two weeks to fully cure on a vehicle. The customer cannot wash their boat or RV for the first two weeks after the application. However, an RV can safely be driven away after two hours in dry conditions and four hours in wet conditions. As such, the vehicle is ready for customer delivery faster than it would be with a ceramic coating.
What surfaces can P2 GRAPHENE PURE be applied to?
The beauty of P2 GRAPHENE PURE is that it can be applied to all exterior substrates, not just painted surfaces like traditional protective coatings. Painted surfaces, plastics, mouldings, glass, mirrors, wheels, decals and more can be protected.
How long is the P2 GRAPHENE PURE Guarantee?
P2 GRAPHENE PURE has a five-year product protection guarantee. If the customer has an issue with their P2 GRAPHENE PURE coating in the first five years, we will cover the cost of another application.
Can P2 GRAPHENE PURE be applied to painted surfaces, gel coat, decals, and other RV + marine surfaces?
Yes, P2 GRAPHENE PURE can be applied to all of these and provide the same protective properties with richer colour depth and a beautiful exterior finish. Any vehicle can be protected with P2 GRAPHENE PURE and reap the benefits of pure surface protection.
Can P2 GRAPHENE PURE be used on RV and Marine Applications?
You bet! P2 GRAPHENE PURE can be used on a number of different applications, including RV and Marine applications.
what our CUSTOMERS ARE SAYING
STRONGEST MATERIAL IN THE WORLD!
200X
STRONGER THAN STEEL!