Complete automotive road hazard coverage & cosmetic protection
Our Automotive Road Hazard programs provide protection from unexpected damage such as tire + wheel, curb damage, lost key + remote replacement, interior protection relating to upholstery rips, tears, and burns, paintless dent repair (PDR), paint + scratch repairs, windshield chips, windshield replacements, headlights, taillights, and fog lights. All programs include towing and car rental reimbursements up to the maximum value stated in the customers Road Hazard plan.

Our Road Hazard programs drastically increase customer trade-in value and lower reconditioning costs for the Dealer. If your customers are looking for peace of mind when it comes to the unexpected costs of vehicle ownership, this is the best way to ensure they are protected.
Our road hazard protection plans will keep you
rolling
We have many plans for Road Hazard Protection. Road Hazard LITE, Road Hazard, Road Hazard PLUS, and Road Hazard PRO. These programs offer flexible protection based on the needs of your customer and their vehicle.
Road Hazard PACK is our basic Road Hazard protection plan, but still offers good coverage for the customer. This program has been designed to offer protection for the most common road hazards like flat tires, tire + wheel replacements, curb damage, and the replacement of lost, stolen, or damaged keys +remotes.
THE PHILOSOPHY BEHIND THE ROAD HAZARD PACK PROGRAM:
To create an additional profit opportunity for the Dealership. 
Provide the Customer a sample size offering of the other full Road Hazard programs.
Your Finance Office will have the opportunity to upgrade the customer to other full Road Hazard Program. The customer will have the ability to choose what is right for them which will improve F&I sales conversions.
The goal is to create increased profit for the Dealership.
The Pack Program requires 100% Dealer participation. All vehicles sold will need to be covered by the PACK program or be upgraded to a full Road Hazard Program.
It's important to note that Road Hazard PACK has smaller claim limits than our other Road Hazard programs and is only available on a 12 month term.
Tire + Wheel Repair
Should the customer's tires or wheels get damaged due to a road hazard, they are covered for repair and/or replacement claims.
Any Canadian that lives in an area with a long brutal winter, near gravel roads, or often travels on highways can relate to glass damage on their vehicle.
Road Hazard GLASS is a Protection program that provides industry-leading glass coverage for chips, repairs and breakage for Canadian motorists. It offers exclusive coverage for all of the  exterior glass on your vehicle. 
To enhance your vehicle's glass protection, your dealership will apply GRAPHENE Pure Glass. This coating will guard your glass from damage due to unexpected road debris and weather conditions. 
WINDSHIELD + EXTERIOR GLASS REPAIR
When minor front windshield chips occur due to random road debris, you're covered for repairs and an unlimited number of occurrences up to the total aggregate of the Protection program. 
INCLUDES GRAPHENE PURE GLASS COATING
We believe that true coverage comes from having a Protection product that brings you real peace of mind. All Road Hazard GLASS Protection programs include a GRAPHENE Pure Glass coating for your windshield, sunroof and all exterior windows to provide additional visibility, clarity and hydrophobicity. 
WINDSHIELD + GLASS DEDUCTIBLE/REPLACEMENT COST REIMBURSEMENT
If replacement is required, you're protected for deductible reimbursement costs with several occurrences up to the total aggregate of the Protection program. You will also receive a re-application of GRAPHENE Pure Glass for free at your original selling dealer.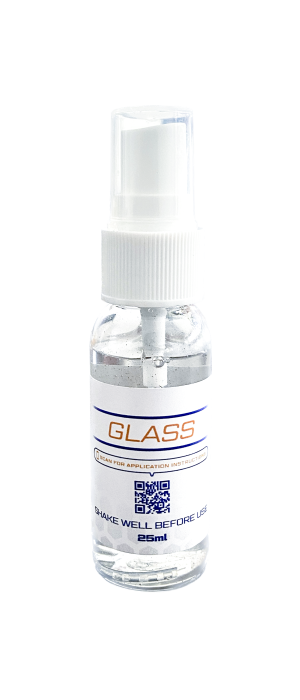 BONUS INTERIOR CLEANING
A step above other glass protection products! After your windshield or glass is replaced, we've got you covered for the cleaning of your vehicle's interior.
ORDER NOW TO GET STARTED
Please click the button below and fill out the form with your ordering information. Our Vehicle Protection Department will be in touch and happy to assist you! 
Road Hazard LITE is our foundational-tier Road Hazard Protection plan.
This program has been designed to offer basic protection for the most common road hazards and incidental costs of vehicle ownership such as: 
Flat tire repairs, tire + wheel repairs/replacement
Wheel curb damage repairs
Lost, stolen, or damaged key + remote replacement (optional)
The points of coverage offered with Road Hazard LITE has been optimized to ensure your customers are able to receive a basic amount of protection to keep them rolling and serve as an introductory program for our full Road Hazard program. 
This program is available for terms from 12 to 60 months.
It is a great offering for budget friendly vehicles, pre-owned vehicles, or customers that just want a bit of protection instead of our full Road Hazard Programs.
Tire + Wheel Repair
Should the customer's tires or wheels get damaged due to a road hazard, they are covered for unlimited repair and/or replacement claims.
Wheel CosmeticS + Curb Damage
We have all bumped into a curb in a grocery store parking lot/drive-through, or when parallel parking before. When wheel damage happens due to accidental scrapes against medians, potholes and curbs, we cover that too! This program enables your customer to make an unlimited number of claims to protect themselves from curb damage.
Key + Remote Replacement (optional)
Replacing a lost, stolen or damaged key or remote transmitter is as annoying as it is expensive for your customers. Not anymore, we have this covered to take some of the sting away from the bill.
Our Road Hazard Coverage protection program has everything that is included in the Road Hazard LITE program and more. This program also features a higher aggregate and larger claim amounts to ensure that the customer has the protection they need for their vehicle purchase. If you're interested in this increased level of coverage for your dealership, please contact one of our Dealer Development Sales Representatives.
The additional coverage in this program includes: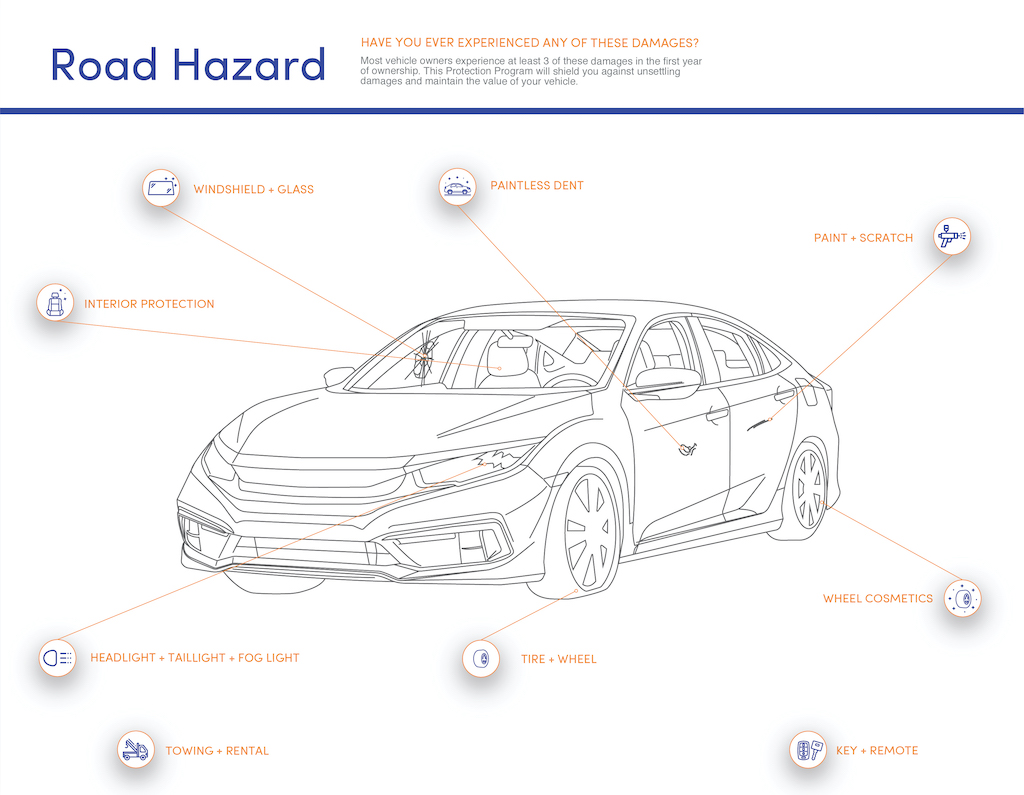 interior protection
Accidents happen!
From accidental spills, rips and tears to burns, punctures, and stains, customers are covered for repairs and cleaning during the term of the service contract. Customers will be able to drink that coffee or eat ice cream with confidence with this protection product.
HEADLIGHT, TAIL LIGHT + FOG LIGHT REPLACEMENT
Don't let your customers get caught in the dark. Let them rest easy knowing if their headlights, taillights, even fog lights are damaged due to road hazards, they are covered for repair or replacement under this service contract.
*Some limitations apply*
Paint + scratch repair
Paint damage can be unpleasant. Keys, tree branches, and parking lot scars from other vehicles can leave unsightly scratches on the customer's vehicle. Scratches requiring paint are covered for repair on this service contract. This will fix scratches up to 30cm in length on the customer's vehicle.
Paintless dent repair
It's safe to say almost everyone has gone shopping for something and come back to a dent in a tight parking space. If the customer gets a ding or dent on their vehicle, they are covered for an unlimited number of claims. This will ensure the quick and easy removal of minor dings and dents up to two inches in size so the customer can park almost anywhere confidently. Never worry about nasty door dings and dents again!
Windshield repair + replacement
Customers won't have to cringe when gravel trucks come out in the wintertime. When minor chips and cracks occur due to random road debris, the customer is covered for an unlimited number of repairs to their front windshield. If a replacement is required, the customer will have a coverage option to fit their needs and get them back to seeing clearly while driving down the road.
Towing + Rental Coverage
If the customer experiences an unrepairable flat tire during the service contract, they will have towing coverage. In cases where repairs covered under this program on the customer's vehicle will take longer than one day to fix, we will keep them rolling. Road Hazard coverage will ensure they have a rental car for a reasonable amount of time. Not only are they protected from road hazards, but we also ensure that the experience is convenient for the customer.
Our Road Hazard PLUS protection program has everything that is included in the Road Hazard Coverage program with larger claim limits on key and remote, paint and scratch, windshield and glass, as well as headlight, taillight, and fog lights.
The increased coverages for these items makes Road Hazard PLUS ideal for customers that are looking for additional protection.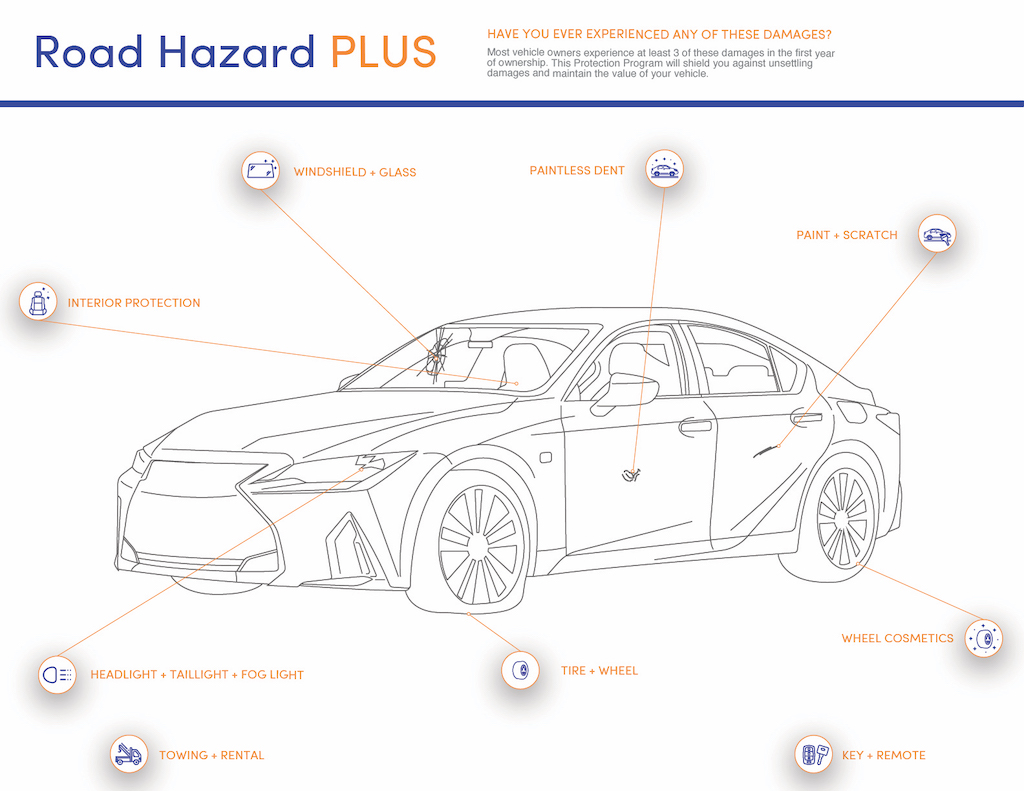 The Road Hazard PRO program was designed with high-end, sport and luxury vehicles in mind. This program increases coverage in the form of larger claim limits and total aggregates on tire and rim repair, wheel cosmetics, key and remote, interior protection, paintless dent repair, paint and scratch repair, windshield and glass repair/replacement, headlights, taillights, fog lights, and towing and rental car reimbursement. This package is ideal for customers that are looking for the ultimate protection with Road Hazard Coverage on high-end vehicles that are very expensive to repair.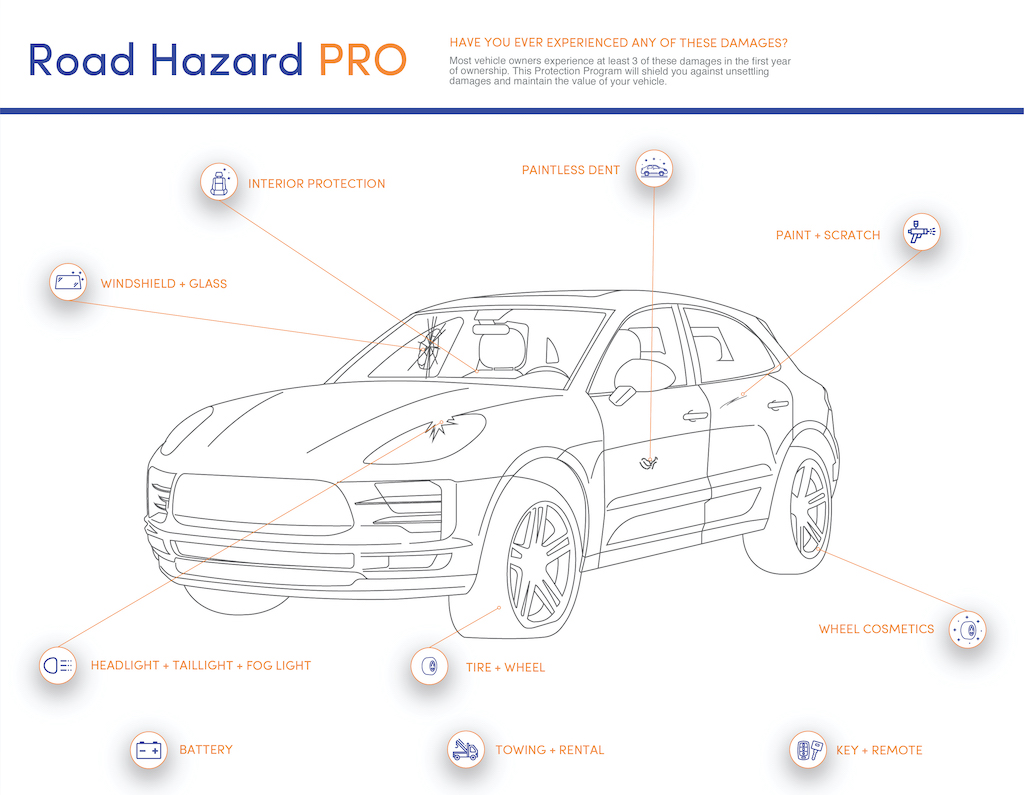 Road Hazard UNLIMITED is the most comprehensive Protection product on the market in its class.
This program was created to offer customers an unmatched level of protection from common Road Hazard damage occurrences and to keep their vehicle looking pristine throughout their term of ownership. 
All points of protection included in the program are covered for an unlimited number of occurrences during the term of protection.
Customers will never have to worry about repeat damages during the term of protection. Whether they regularly lose their key fobs, curb their wheels, or the community hockey game routinely gets out of hand and causes a few dents, applicants can rest at ease knowing their vehicle is covered. 
For specific program details, please reach out to your dealer representative.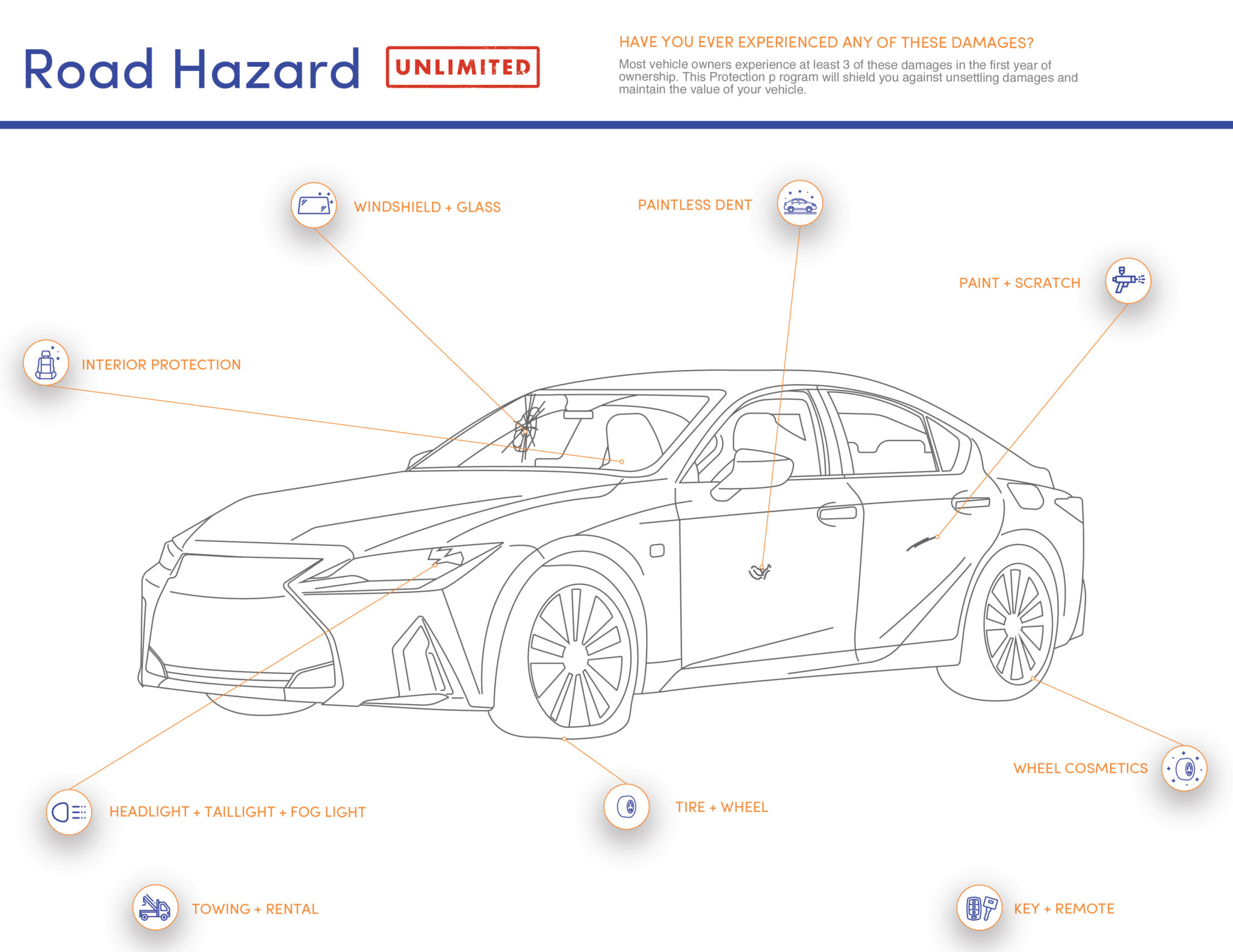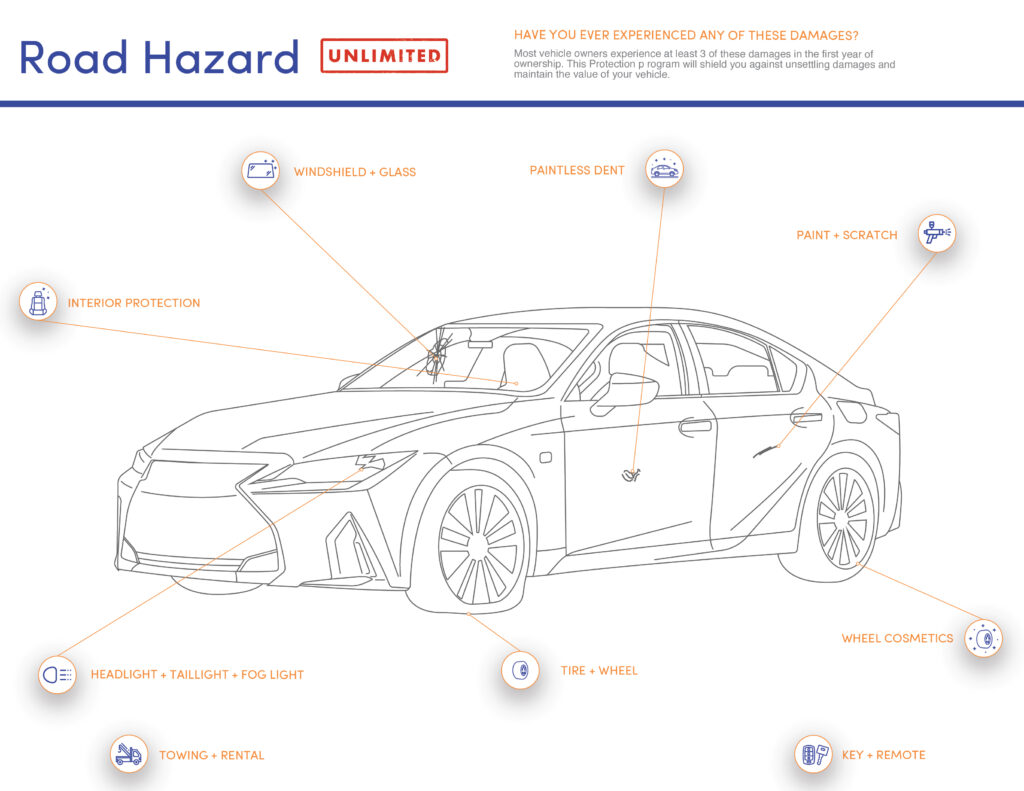 WIDE RANGE OF
MAKES + MODELS
Previously, our Road Hazard programs sometimes excluded makes and models. With Road Hazard UNLIMITED, everything from a Kia to a Rolls-Royce is covered.
EXTENDED
TERMS
Road Hazard Unlimited is available for terms of up to 84 months. With today's automotive customers opting for longer finance terms, coverage needs to adapt to ensure it protects them for their entire term of ownership.
OPTIONAL
ENHANCEMENTS
This industry-leading Protection product also has XPEL paint protection film/window tint coverage and glass coverage enhancements for customers that are in need of extra protection.
The most progressive and complete Road Hazard coverage in the industry.
Eligible for:
new, pre-owned & leased vehicles
Offering 5 years of coverage for domestic, import & luxury vehicles
Unique coverage solutions to ensure your customers needs are met
no deductible on all protection plans
Customer Care Centre
to resolve claims
quickly and easily
fully transferable
to A new owner
GET THE
FAQs

on road hazard
Where can I get the Road Hazard repairs done?
If you have moved away or the selling dealer is unavailable, take your claims to any licensed repair facility in your area. Please contact the customer care department for more information on where you can find a licensed repair facility. Call 1-888-406-4545 or email claims@goautoshield.com.
If I am on a road trip in the USA, can I still make a Road Hazard claim?
Yes! Call our customer care department 1-888-406-4545) or email them (claims@goautoshield.com) to let them know of the mishap and they will help you proceed with the claim, anywhere in North America.
If I accidentally curb my wheel, is that covered?
Absolutely! You can mess up and clean up before anyone is the wiser!
How many Paintless Dent Repair claims can be made?
So long as you have the Road Hazard Coverage protection plan, Road Hazard PLUS or Road Hazard PRO, paintless dent repairs are covered for an unlimited number of claims. Never worry about door dings and dents again!