SAFEGUARDING VEHICLE OWNERS
WITH THEFT Protection
The last thing we want to hear is that someone's car has been stolen and they didn't have the right amount of vehicle theft insurance coverage to protect them. The losses and costs incurred by being without a vehicle for an extended period of time, can be significant. For this reason, we created our Automotive Theft Protection Membership program to protect customers when unforeseen events like vehicle theft occurs.

*Note: This Protection Product is not available in British Columbia at this time.
CANADA

WIDE
THEFT PROTECTION
DRIVING PEACE OF MIND
Did you know that vehicle theft is one of the most common police-reported offences? According to the Insurance Bureau of Canada, a vehicle is stolen approximately every six minutes and an experienced thief can steal a car in as little as thirty seconds. Help your customers protect their investment and financial security by providing them with automotive theft protection.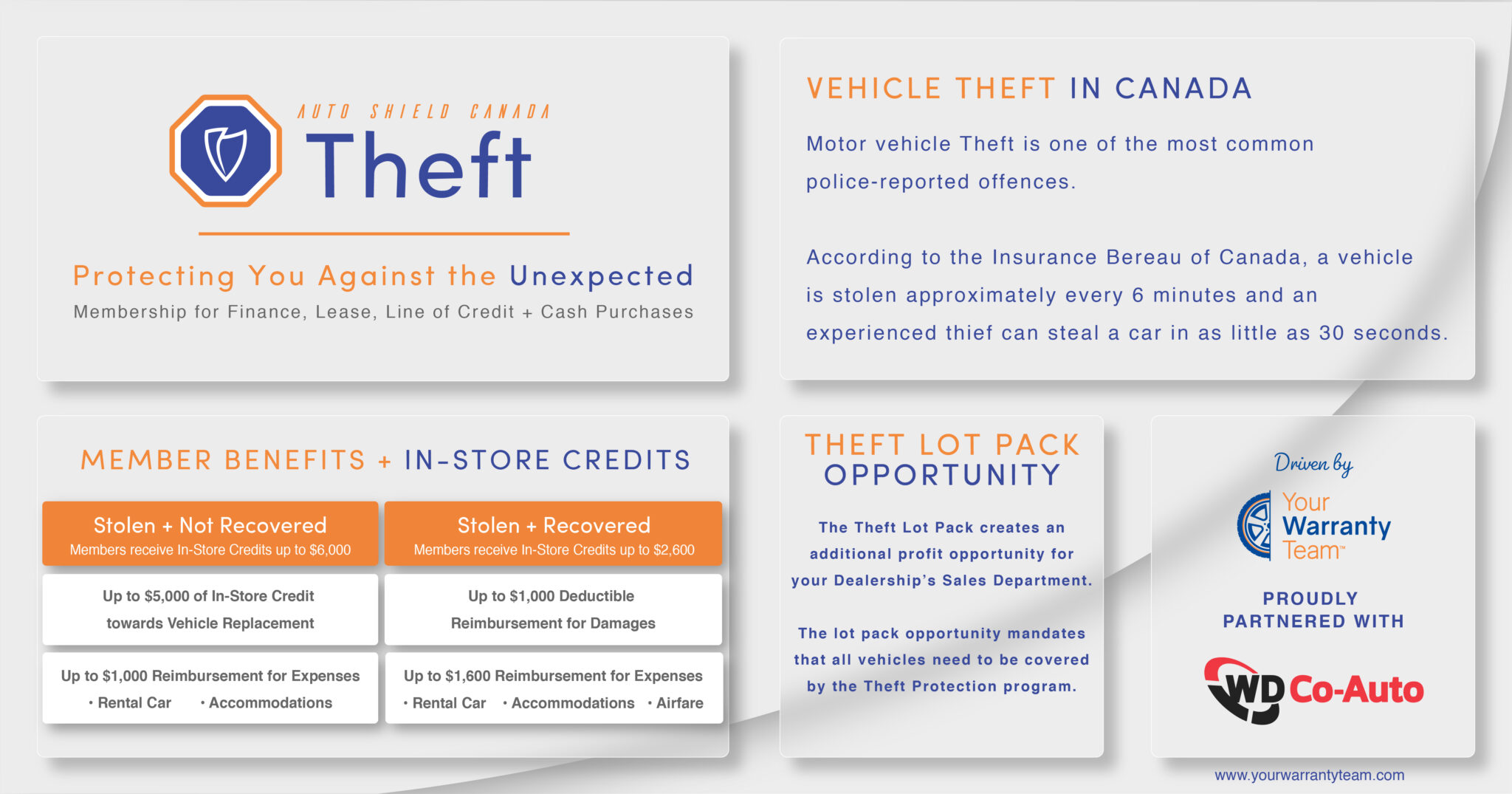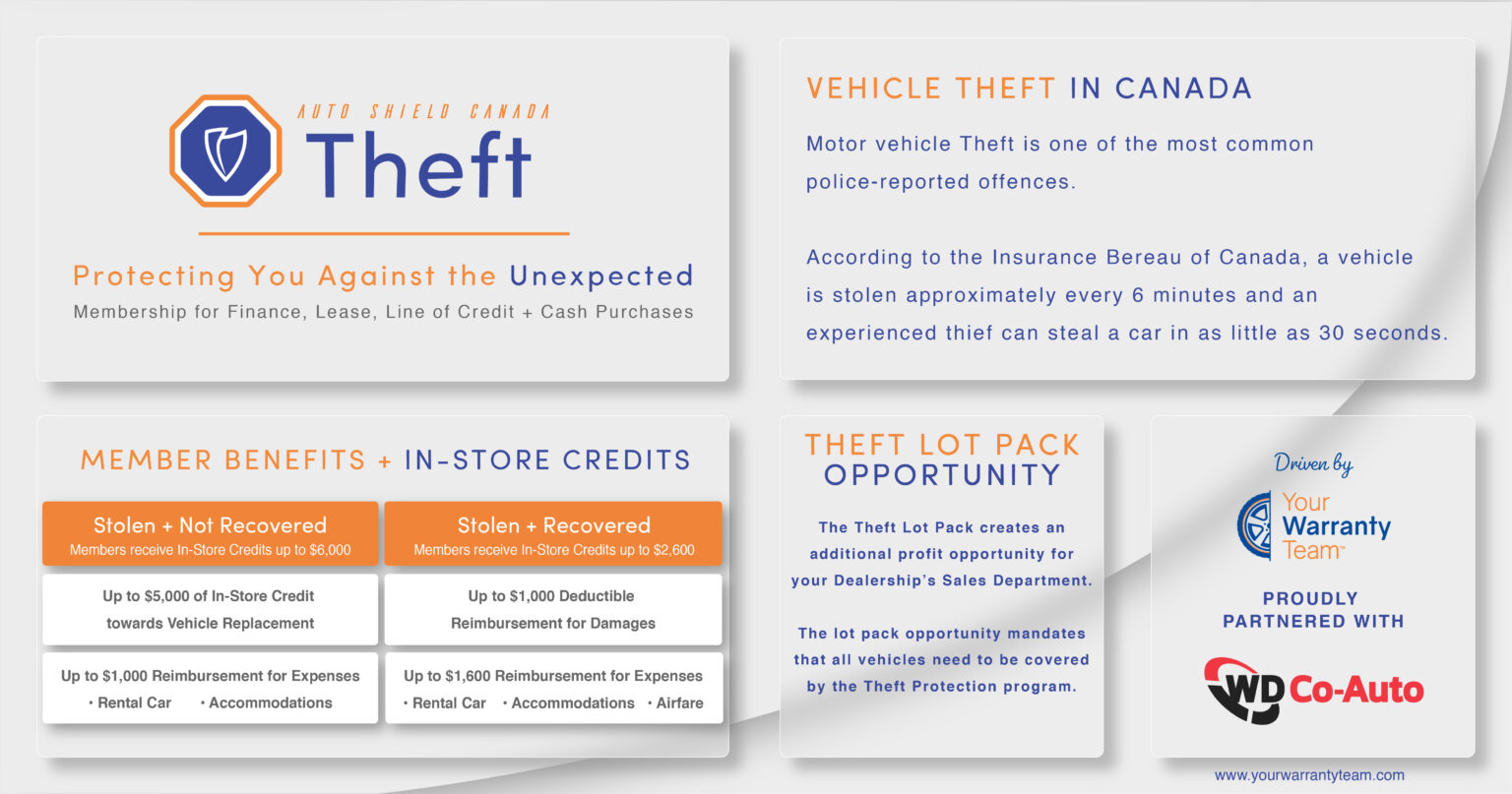 EXCLUSIVE

MEMBERSHIP ADVANTAGES
Our automotive theft protection membership comes with added value for your customers that they wouldn't receive from regular car theft insurance coverage. We understand that insurance companies don't always do everything needed to help your customer get back on track after having their vehicle stolen. For this reason, we offer these exclusive membership advantages to help your customers in the event of a non-recovered theft.
STOLEN + NOT RECOVERED
Maximum Aggregate: $6,000
Up to $5,000 towards the purchase of a Replacement Vehicle
In the event the customer's vehicle is stolen and not recovered and thereby deemed a total loss by the customer's primary insurance carrier; this membership program makes a great addition to their existing Auto Theft Insurance Coverage. Customers will receive a $5,000 in-store member credit towards the purchase of a new vehicle at their original selling dealership, a rental car to drive while they are waiting on a new vehicle, trip interruption coverage to help cover the costs incurred by losing a vehicle in the middle of a trip, and accommodations, so they have a place to stay.
We understand that being without a vehicle for an extended period of time can create some hardships for the customer. For this reason, we have gone to great lengths to ensure they are covered every step of the way and that they have the financial assistance available that is needed to get them into a new vehicle.
STOLEN + RECOVERED
Maximum Aggregate: $2,600
Deductible Reimbursement (for repairs)
If the customer's vehicle was stolen and recovered, this membership program will also help the customer recover and recondition their vehicle as well. The included $1,000 deductible reimbursement from in-store member credits is a great way to get the vehicle inspected and any damages that have arisen from the theft repaired at the original selling dealership. The one-way airfare and accommodations benefits ensure the customer can easily get where they need to go to recover their stolen vehicle.
The aim of this membership program is to ensure the members are covered from start to finish from the moment their vehicle is stolen until the moment the dealership hands over a new set of keys, or better yet, their vehicle has been recovered. We're here to protect your customers from the unexpected.
Does the automotive theft protection in this membership program replace the need for auto theft insurance coverage?
No. This membership is not to be used in place of auto theft insurance coverage from a primary insurance policy. This membership program has been designed to cover the costs incurred by the customer that are associated with having their vehicle stolen. Think of it as bonus coverage that helps cover additional costs that a primary insurer would not cover when a vehicle has been stolen.
When are customers eligible for one-way airfare?
If the customer's vehicle is stolen and recovered more than 500km away from their home, this membership program will cover the cost of their one-way airfare to the nearest airport and any required accommodations so that the customer can recover their vehicle.
Who is eligible for the automotive theft protection membership program?
This membership program is open to all applicants that are a natural person, a Canadian citizen, at least 18 years of age so long as they are not in a corporation, partnership, or any other form of business entity. Customers that meet these requirements and are buying a personal vehicle can be covered with this automotive theft coverage membership.
What are the limitations of this automotive theft protection membership?
There are some important limitations to note with this automotive theft protection membership.
This membership is only valid when the vehicle has been purchased through an authorized dealership, and the membership fee has been paid.
This is a limited membership, and ASC will not be responsible for any incidental or consequential damages arising from a vehicle theft. This includes, but is not limited to:
Inconvenience;
Personal injury;
Property damage;
Commercial loss;
Loss of life.
This membership does not provide coverage for any loss caused by misuse, abuse, or negligence. This includes leaving the vehicle unlocked or the keys in the vehicle while unattended.
The maximum aggregate member benefit under this membership shall be equal to the amount of $6,000. (Canadian Funds)
No in-store member credit will be made where a primary insurance carrier settlement has not yet been reached. All member benefits are conditional upon the member obtaining all other reimbursements to which they are entitled through their primary insurance policy.
Should the replacement vehicle be valued at less than $5,000, the maximum in-store member credit will be the lesser of and limited to the vehicle's Canadian Black Book value on the date of loss.